Coordinator Node
The coordinating node is based at the headquarters of the Basque Foundation for Health Innovation and Research.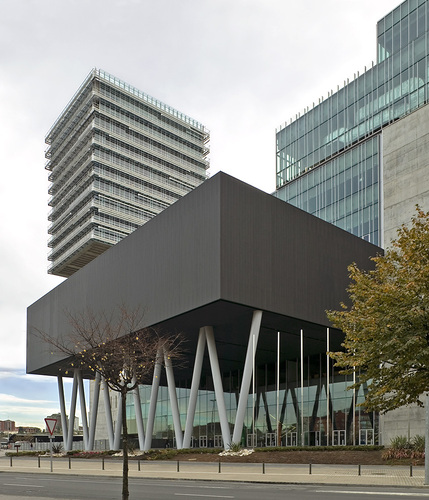 The Basque Foundation for Health Innovation and Research
Torre del BEC
Ronda de Azkue, 1
48902 Barakaldo - Bizkaia
The coordinating node working group consists of:
Coordinating Node Manager
Roberto Bilbao
Contact:
Phone: +34 944 536 890
e-mail: bilbao@bioef.org
Responsabilities:
To ensure compliance with current legislation

To maintain a record of all Biobank activities

To guarantee the quality, safety and traceability of the data and biological samples stored in the Biobank and the procedures associated with the operation thereof.

To draft, together with the Basque Biobank's operator, an annual activity report, which will be submitted to the authority that authorised creation of the biobank

To respond to any request for information from the BIOEF Board or Joint Commissions.

To draft the Biobank's good practice guidelines

To draft the specifications report describing the characteristics of the collections, the inclusion criteria and purpose for which the collection has been formed, the means by which the historic collection has been collected and the information that can be associated with each sample.

To deal with questions or complaints concerning the Biobank.
Secretary
Leire Sánchez
Contact
Phone: +34 944 53 68 90
e-mail: biobancovasco@bioef.org
Responsibilities:
Biobank secretarial duties
Supporting the Biobank's director and technical coordinator
Managing sample requests received via the IT system
Managing the import and export of biological samples
Managing sample transfer agreements
Passing project and provision approvals to the CREC
Managing sample deposits
Managing sample incorporations
User support
Neurological tissue donation program
Maintenance of the sample management IT system
Technical coordinator
Lucía Iglesias
Contact:
Phone: +34 944 536 830
e-mail: solicitudes.biobancovasco@bioef.org
Responsibilities:
Coordination between applicant and depositary to establish collaborative studies.
Drafting of budgets to cover sample collection, processing and provision costs.
Dissemination of the Biobank to the scientific community.
Launch of sample collection programs.
Development of sample processing and storage techniques.
Supporting the Scientific Director during drafting of the annual report.
Maintaining the Biobank's operational guidelines.
Managing the implementation of quality systems.
Managing sample collection for clinical trials via the Biobank.
Managing the web page.
Supporting the Scientific Director in managing the Biobank.
Biobanking R&D Coordinator
Oihana Belar
Contact:
Phone: +34 944 535 755
e-mail: gestionIDi.biobancovasco@bioef.org
Responsibilities:
Managing and coordinating biobanking R&D projects
Searching for funding sources
Managing and maintaining the operational guidelines
Head of Quality Testing
Administration
Silvia Fernandez
Contact:
Phone: +34 944 536 823
e-mail: sfernandez@bioef.org
Responsibilities:
Managing human and material resources.
Invoicing services and sample provisions.
Purchasing management.
Internal documentation records.
Recording Biobank activity in the media.
Managing development of the Biobank's IT system.
Monitoring appropriate use of the samples and submission of final reports.
Managing news items on the Biobank's web page.
Supporting the Biobank's secretary.